High temperature resistant felt conveyor belt mainly used in aluminum extrusion, iron industry, automobile, precision ceramics, electronics, circuit board industry demands from scratch resistant to high-temperature work environments, such as high temperature aluminum needle felt conveyer belt is made of high temperature resistant fibers after special craft molding,
has high temperature resistance, wear resistance, good compatibility and high cost performance, at the same time, the surface of the felt belt is soft.
It will not damage the surface of the profile, so it is widely used in the aluminum profile processing industry
introduce
Made of imported materials,

high temperature resistance

is 180℃. If necessary, it can be made of special materials with high-temperature resistance of 250℃.

The inside of the felt sleeve contains heat-shrinkable fiber material. After heating, the felt sleeve will shrink automatically and wrap tightly.

The

felt sleeve

has a smooth surface, uniform density, and good wear resistance. Long service life.
High temperature resistant needled felt:
Made of imported materials, commonly used specifications have

temperature resistance

of 160-180℃ and 230-260℃. Applicable to three, four belt cooling machine, heat transfer machine, calendering machine, pre-shrinkage machine
The conveyor belt of laminating machine (felt belt) adopts polyester filament base cloth
The main material is blended with polyester fiber and aramid fiber. The base cloth is blended with polyester filament and 0.3 nylon yarn. It has the characteristics of good tensile resistance, no deformation, no shrinkage, no deformation, smooth surface, and good wear resistance.
Blanket belt performance, automatic flatwork ironing machine blanket, seamless belt automatic steam ironing machine Needled felt blanket characteristics:
Made of imported materials,

high-temperature resistance

of 280℃.If necessary, it can be made of special materials with high-temperature resistance of 300℃, alkali resistance, acid resistance, and chemical corrosion resistance.
Commonly used fabric

blanket

contains the spiral structure of mesh skeleton material, the whole fabric blanket after high-temperature shaping treatment, the overall structure is very stable, the width and length of the basic contraction, no elongation.
The

Felt belt

has a smooth surface, uniform density, high elasticity, high air permeability, and good wear resistance. Smooth operation, not easy to deviate, long service life.
The high temperature seamless belt is mainly suitable for aluminum handling system, in belt-type extrusion cooling tables, because of the fast transport speed, friction, so the need for high-temperature resistance, wear-resistance, and tensile strength of the fiber.
Kevlar fiber can do this, its main characteristics are good temperature resistance, high wear resistance, and the choice of a special tree hardening process to enhance the wear resistance.
The joint has two forms of annular and steel, the thickness from 6 to 15mm a variety of choices.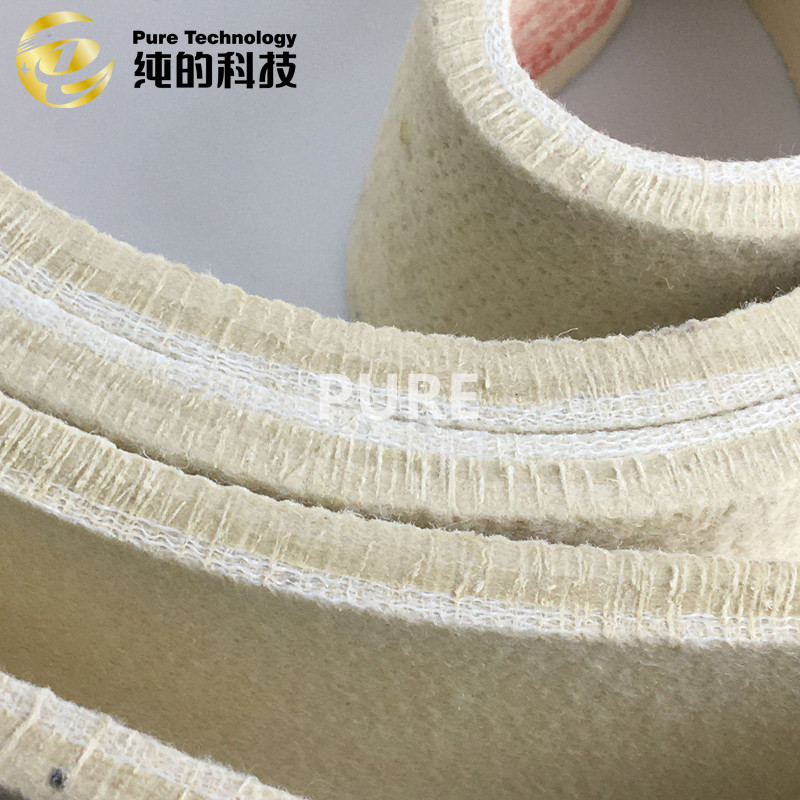 Pure felt company is a collection of research and development, design, production, sales in one of the high-tech modern enterprises.
Specialized in high-temperature felt products for aluminum extrusion line, including 600℃ (PBO extra-high temperature series), 500℃ (high temperature Kevlar series), 280℃ (medium temperature Nomex series), 180℃ (low-temperature Polyester series)
seamless conveyor belt felt roller, flat felt strip, aluminum anti-friction protective strip, aging furnace felt sleeve, synchronous belt, and the timing felt, etc.
First-class technical force and strong manufacturing capacity can be tailored for special specifications of products, to meet the special needs of high-end customers.
With the continuous development of the world economy,
the exchanges between countries and industries are more frequent,
which is an indispensable sword for the development of technological products. Make PBO, Kevlar felt has extraordinary wear resistance, the service life is greatly extended.
Powerful production equipment and international first-class precision manufacturing technology, almost strict enterprise production technology standards, and quality control system, so that the technical indicators of Kevlar products always maintain the international advanced level.
Up to now, Pure Nomex felt company has passed ISO9001 international quality system certification and won the title of famous brand in China. It has become a larger and more professional manufacturer of applied felt products after thermal processing of aluminum material in China, and one of the larger export enterprises in the felt industry in China.
Linkedin: https://www.linkedin.com/company/nomexfelt
Phone No: 0086-18718722073
WeChat:0086-18718722073
Skype | Whatsapp:0086-18718722073
Mail:[email protected]