As we know, Heat Transfer Printing Felt Suitable for fabrics, decorative fabrics, curtains, leather, ribbons, and Printing of various materials such as clothing and advertising cloth. Transfer Printing Felts also named Thermal Transfer Printing Felt, Heat Resistance Roller Sleeves, and High-Temperature Seamless Blankets. This felt is the most critical component of Heat Transfer Printing Machines. So Heat Transfer Printing Felt is necessary for clothing manufacturers' daily production.
Making sure Heat Transfer Printing Felt the size is the first step.
Before purchasing the heat transfer felt, it is essential to confirm the specific size you need. As shown below, we need to know what size you need. The width, perimeter(length), and thickness. We need to ensure the size requirement to quote you our best price.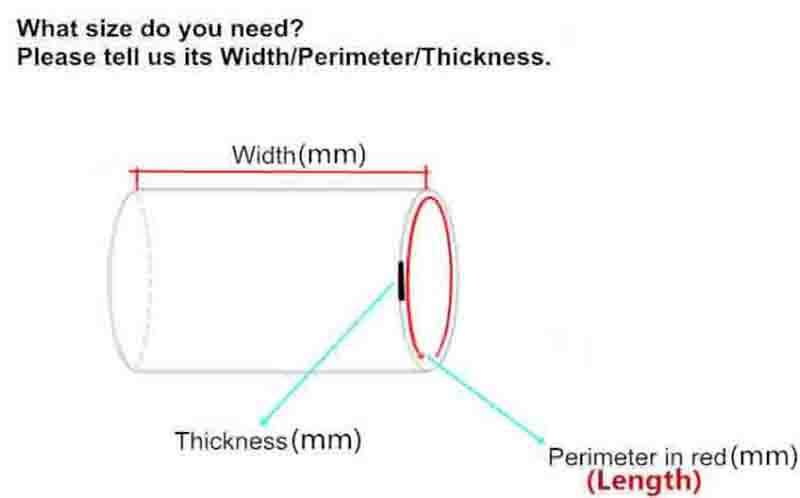 Besides, we recommend using the thickness that suits you. If the perimeter is less than 2.6m, it is recommended to use 8mm thick; if it is more than 10 meters, it is recommended to be 10mm wide. Thicker but has poorer air permeability. 8mm is more breathable and cheaper than 10mm, and the felts provided by machinery factories to customers are all 8mm thick. In a word, It's not the thicker the better, if it is wide, it may not turn well (slip) when using it.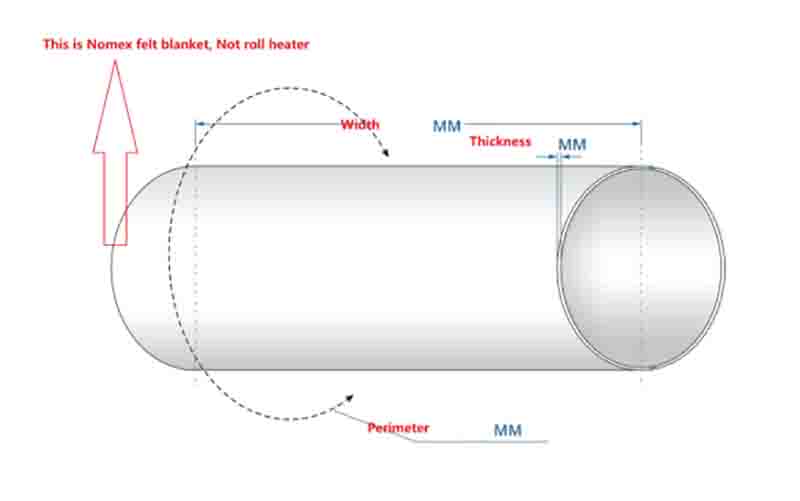 Some of the commonly used Heat Transfer Printing Felt sizes for your reference:
| | | |
| --- | --- | --- |
| The perimeter(MM) | Width(MM) | Thickness(MM) |
| 1320  | 1215 | 8 |
| 3140 | 1960 | 8 |
| 2240 | 1700 | 8 |
If you have other demands about the size, kindly let me know, we accept the customization.
 Then, pay attention to your temperature requirement. The material selection of the product depends on your temperature needs. Mostly the heat transfer printing felt usually uses 100% Nomex. The working temperature is up to 260℃and the mechanical working temperature is about 230℃. The temperature resistance is better, and the price is higher.
Last but not least, follow the installation instructions to install carefully. Correctly install the blanket, and run in the same direction as the arrow. We recommend that the machine should be completely cooled at this stage. When the veil is still not in operation, it is necessary to protect the blanket which is connected with the heating drum. When the installation is finished, ensure that all the drums are parallel, and then increase the tension for the roller to drag the blanket for the stretching operation.
The following are PURE blanket manufacturer's recommendations for blanket operation:
Heat up and keep the blanket running
At low speed:   140℃ for 2 hours
                            170℃ for 2 hours
                           200℃ for 4 hours
At high speed: 220℃ for 2 hours
                           240℃ for 2 hours
Finally, cool down to 220℃for for operation, and check the tension between the middle and sides to
see whether they are approached. Do not loosen the blanket within a week, and the machine can be turned off when the temperature drops below 100 degrees Celsius.
Finally, choosing a blanket that is suitable for you can significantly improve your production efficiency. Choosing high-quality products and reliable suppliers will be better. The pure company sincerely provides you with high-quality services and products.
Want to know more about how to prolong the life of heat transfer blankets? read this article[How to extend the life of the heat transfer printing felt blanket?]
If you have any questions, please ask us on Facebook:https:www.facebook.com/nomexfelt