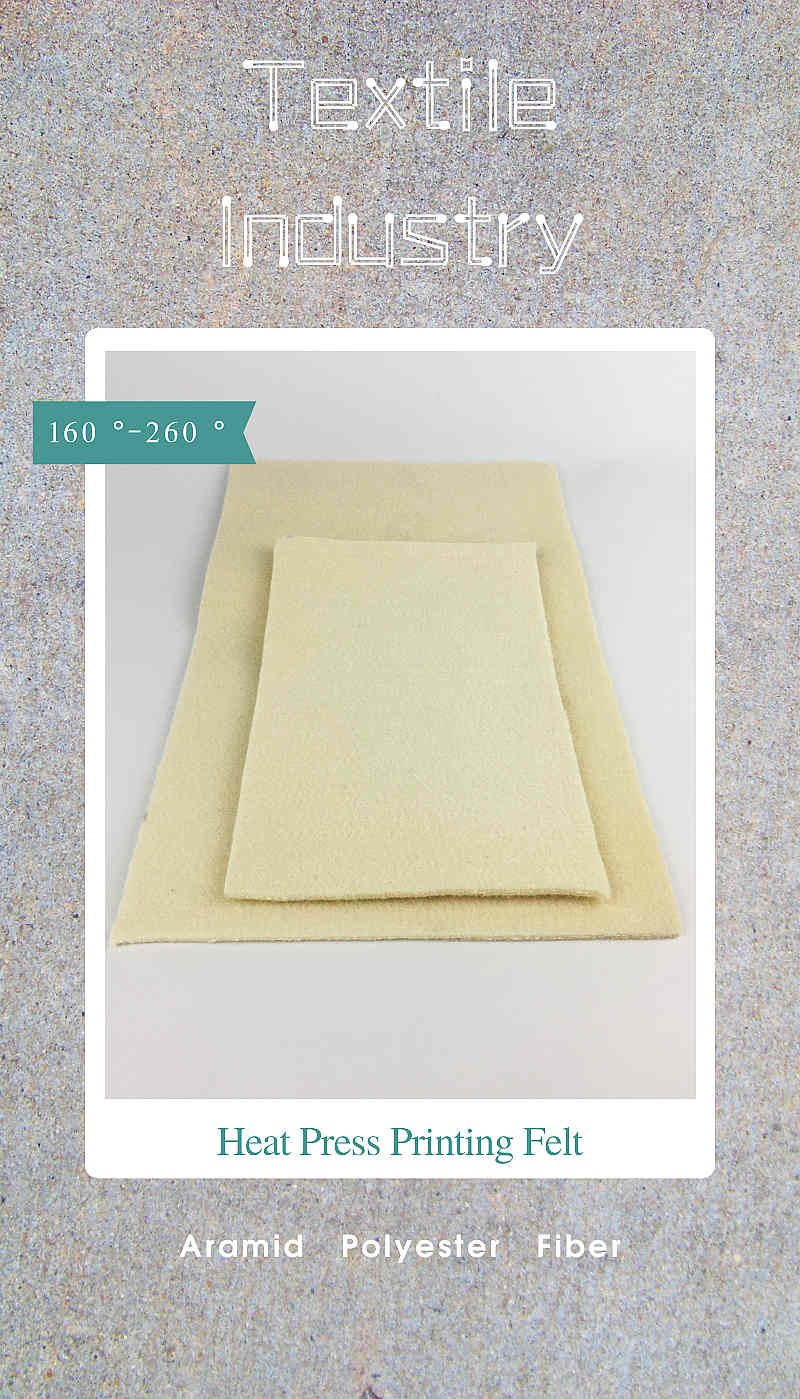 Flatbed Heat Press Felt Sublimation Transfer Machine Padding. Nonwoven needling, Heat Resistant.
Specifications
| | | | |
| --- | --- | --- | --- |
| Brand Name: | Pure | Type: | Flat-Strip |
| Model Number: | Felt-HPP | Material: | Aramid or Polyester |
| Color: | off-white or white | Temperature: | 160℃-260℃ |
| Density: | 3600g/m2 | Technique: | Needle Punch |
| Packing: | Carton box and Transparency film | Dimension(L*W*H): | L:30M*W:2M |
| Application: | Textile machinery, Flatbed  heat press machine | Material Feature: | High density |
Click here  Inquire for a Quote Now!
Advantages
● Endless and seamless attribute conveyor felt belt without joints and seams. It has no weaknesses and has a flat thickness.
● The heat press felt is flat with no blemishes, bumps, scales. The surface is extremely smooth. Will not contaminate aluminum. especially suitable for the production of aluminum products with extremely high requirements for electrophoretic surfaces and polished surfaces.
● The high temperature felt material is 100% pure, without any impurities, the higher the purity, the higher the quality, the heat-resistant temperature meets the requirements, the abrasion resistance, and the effective use time is longer than other manufacturers.
---
Payment method
The industrial endless felt blanket manufactured by Foshan Pure Technology can use T/T, Paypal, Western, Union, L/C, and other payment methods.
? Click the button in the bottom right corner to contact us for more payment methods. ?
Heat Felt Detailed View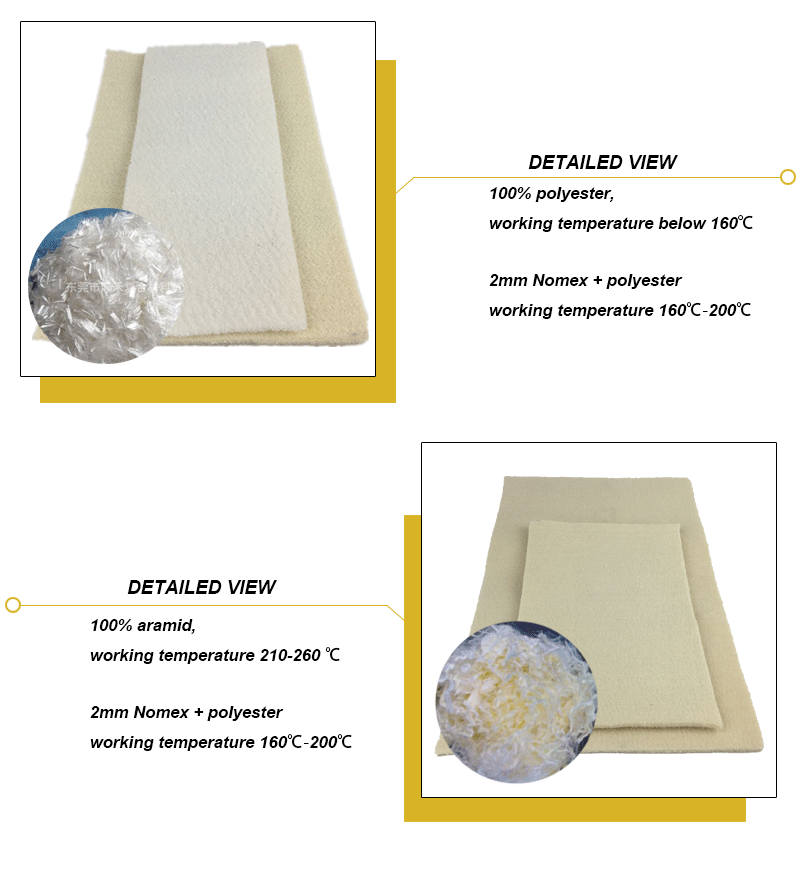 Application
● The heat felt used on Flatbed Heat Press Sublimation Transfer Machine. Textile industry machines.
Heat press sublimation printing machine used on small format flags, large fabrics & piece goods, printed sportswear panels, banners, floor mats, T-shirts, carpets, mousepads, and more.
Sublimation paper for t-shirt printing.
Company Qualification
We actively promote the modern enterprise management system and were awarded ISO9001:2008 EWC quality system certificate etc.
We have QC staff to inspect every process and raw materials to ensure the products in good quality. Advanced equipment like mechanical needling and carding machine etc.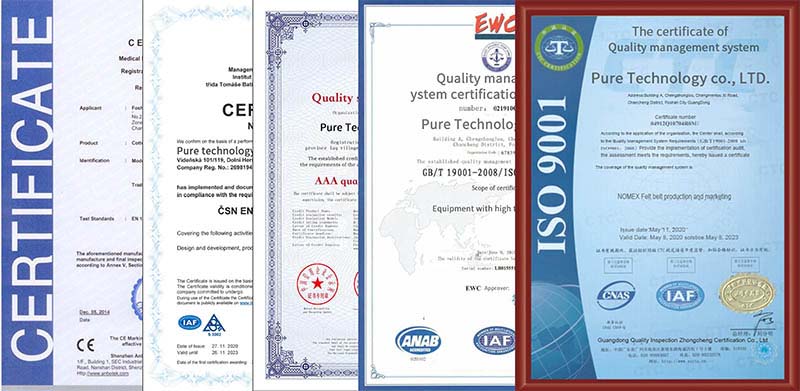 How to make Sublimation Machine Felt
A meta-aramid, also known as aramid 1313. It is characterized by good heat resistance and high strength. Its material properties can remain stable for a long time at a temperature of 250°C. It has excellent high temperature resistance, flame retardant, non-toxic, and its needle punched products are mainly used as Nomex aramid felt.

Carding

Carding machine opens and combs heat resistant fibers to remove impurities.
The curled or lumpy fiber mass will become a state of a straight single fiber.
And At the same time, in the ginning process, it can remove the impurities and short lint in the fibers.
Ensuring the uniformity of the warp and weft tensile, length, and a number of yarns in the base fabrics, under strictly controlled temperature and humidity conditions.
In the final stage of carding, the needle machine will punch the pure Nomex fibers to become the temperature resistant felt layer.

Weaving Laying

The fiber enters the web-laying machine, takes an approach to automation using robots, ensures consistent high quality and productivity.
The web-laying trolley is driven by a toothed belt to cross-fold the Nomex fiber single web output from the carding machine.
Our weaving employs sophisticated tension management technologies to make it into a multi-layer web with the required width and unit weight.

Hardened

Full resin or semi-resin treatments are available to improve the wear resistance and durability of the Nomex endless felt. It also prevents aluminum swarf or dirt from sticking to the industrial felt, reducing damage to the surface of aluminum profiles.

Cutting

The Nomex heat resistant blanket is cut with an electric rotating fabric cutting machine. Whether in terms of specifications or quality, Pure® felt tubes can perfectly meet customer needs. Using superb technology and machinery, cut out the size required by the customer, and cut out the edge-free Industrial felt belt.

Inspection

All the finished products will be inspected by our professional-quality control staff with metal detector equipment, to ensure all products are inspected and there are no broken needles inside the heat proof Nomex belt covers. Foshan Pure technology always insists that we'll only deliver the goods to our customers after our products pass a series of rigorous tests.
Delivery inspection
| | |
| --- | --- |
| Our company's heat resistant felt blanket packaging in the textile industry is packaged in orange strong woven bags. It is more waterproof and more wear-resistant. Escort the products you choose from our company! Please look for our packaging. | |
After-sales service
● Professional technical team to provide you with tailor-made services.
According to the industrial felt blanket specifications and requirements provided by customers, design and manufacture products that meet the requirements.
● Professional Textile machine solutions experience, Textile factory construction instruction. Find the right heat press equipment for your business. Increase production.
● Professional procurement Services Team, we often sell heat felt and have met many friends in the textile industry, Cooperative customers can purchase textile machines,
such as Calender machine, fabric pleating machine, heat transfer printing machines, Sanforizing machines, Compacting machine, heat press machines. reduce trouble and get a preferential price.
---
Frequently Asked Questions
Q: What information do I need to provide?
A: Need to provide heat felt blanket size, machine model and picture, delivery address, and zip code to calculate shipping
Q: What is the process of placing an order?
A: Contact us for heat press printing felt size and quotation, We provide you with an invoice-remit the money to the bank account-arrange the heat resistant felt production after receiving the payment-settle the balance before shipment- send out the felt rollers – receive the goods
Q: Are there any additional costs?
A: Additional taxes and fees are determined by your local customs duties
Q: Where is the origin of the fiber?
A: The low-temperature fiber polyester has a temperature resistance of 180 degrees and is produced in Yantai, China.
Nomex, a medium-temperature fiber with a temperature resistance of 280 degrees, comes from the USA.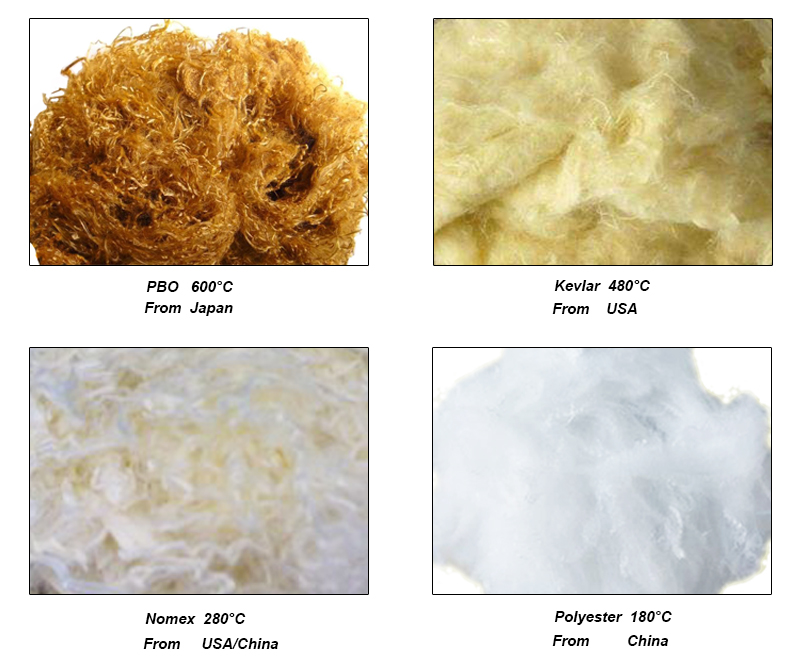 ---
Tips: Calender machine,  Sanforizing, Compacting.
We are to provide high quality supplies and solutions to reduce marginal costs for the boss who has problems in purchasing machinery spare parts. Leading manufacturer of heat resistant felt belts Nomex felt factory – Pure Technologies Ltd.