Today is World Environment Day intended for the annual June 5,
Reflects the understanding and attitude of people around the world on environmental issues,
Expressed the yearning and pursuit of human beings for a better environment, improve the awareness of environmental protection,
Let's learn garbage classification and protect the environment.
Recycling
Including waste paper, plastic, glass, metal and cloth.
Other Rubbish
Including in addition to the above several types of garbage tiles and ceramics, mule, toilet paper, paper towels and other difficult to recycle the waste.
Kitchen waste
Including leftovers, bones, roots, leaves, peel and other food waste, after treatment can be converted into organic fertilizer.
Hazardous Waste
This includes waste batteries, waste fluorescent lamps, waste silver thermometers, expired medicines, etc., which need special and safe disposal.
World Environment Day,Garbage classification is an effective way to achieve garbage reduction, recycling, harmless, and avoid "garbage siege".Let's implement garbage classification together and build a green civilization.
Pure technology company
Environmental protection is everyone's responsibility, starting from pure technology limited companies.
As a factory, does not discharge sewage, does not discharge exhaust gas, our felt factory has no sewage and exhaust gas, there will be some noise and dust, but we are in line with international standards.
Do not throw garbage, do a good job of garbage classification, especially when traveling to the seaside, be sure to collect garbage, as long as these, we have been very great.
if you have any suggestions to protect the environment, please leave your comments and suggestions.Thank you~
To learn more about protecting the environment, you should know Nine things to do to save the planet.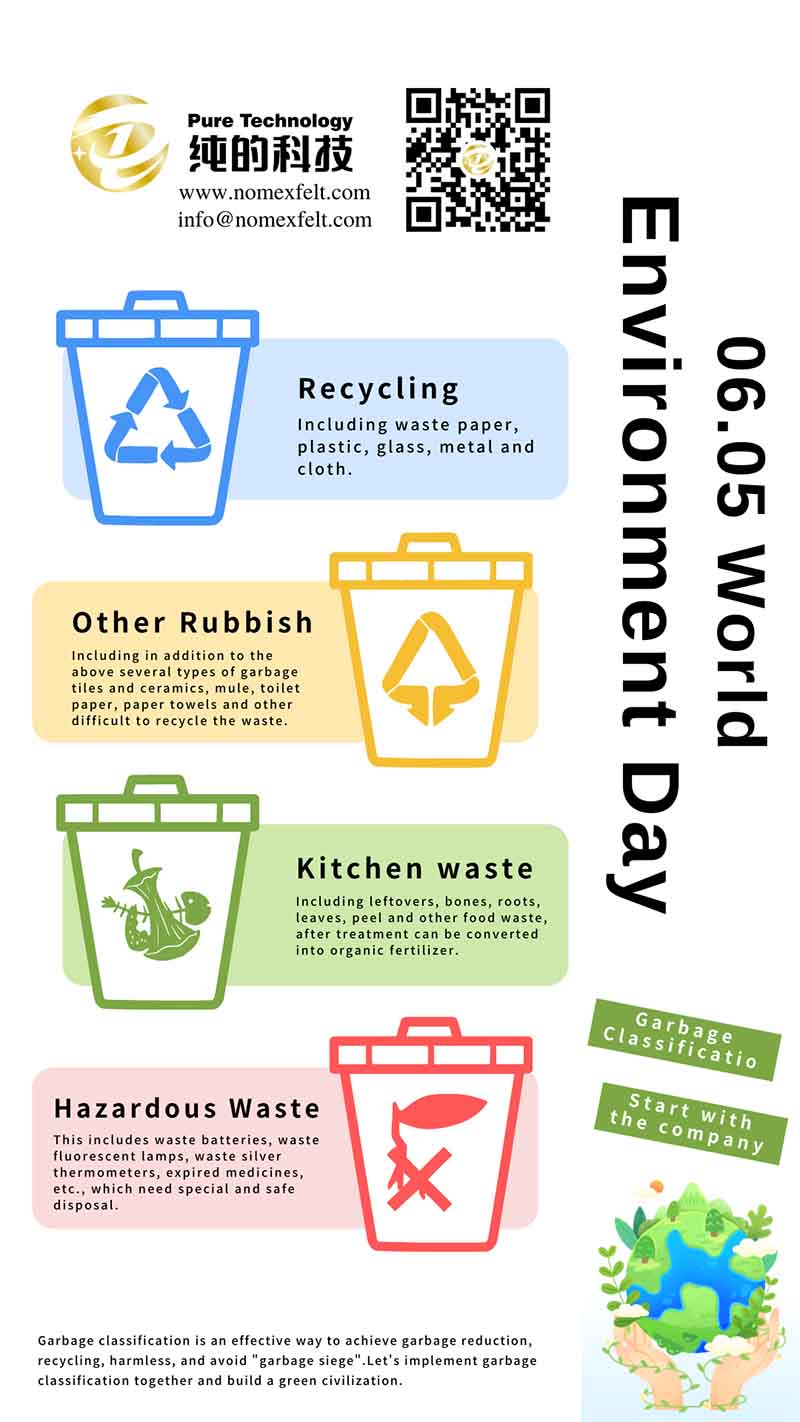 6.5
Aluminum, textile, steel industry machine spare parts
& high temperature resistant felt manufacturers
China Pure Technology Co., Ltd
     Pure linkedin url   
https://www.linkedin.com/company/nomexfelt
Phone No: 0086-18718722073
WeChat:0086-18718722073
Skype | Whatsapp:0086-18718722073
Mail:[email protected]