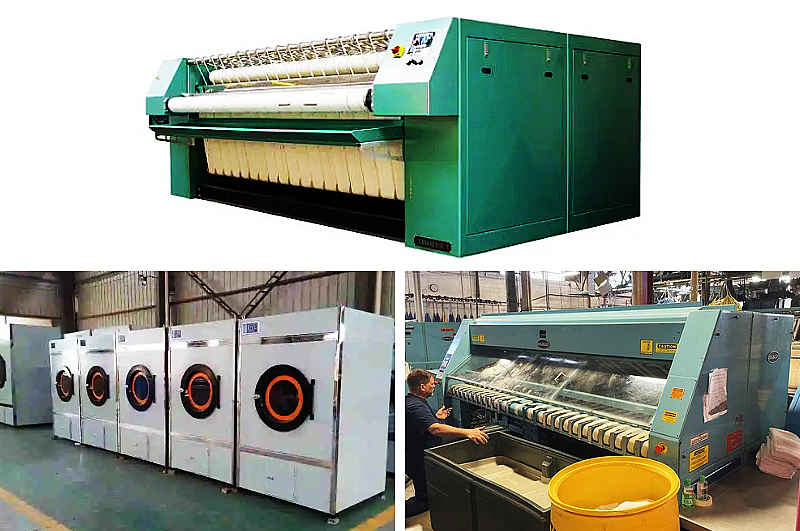 Industrial laundry equipment has two simple steps: enter, drain.
These two steps are controlled by solenoid valves, so what are the reasons for the constant water inflow of industrial washing machines?
1. The drain valve is leaking
The water inlet valve and the drain valve are related to each other. When the drain valve keeps releasing water and the water level sensor cannot sense the water inlet, the water will continue to flow in.
The faulty parts of water leakage are mainly caused by cracks in the washing barrel, poor oil seal of the washing shaft, aging of the sealing ring of the front view hole, and poor sealing of the drain valve.
2. Water inlet valve failure
A faulty inlet valve is a relatively common minor problem.
The phenomenon that the water inlet valve fails is: when the power supply is cut off, the water inlet valve continues to enter the water, and the water inlet valve cannot be automatically closed after the power failure.
The main reason for this failure is that the spring of the valve core fails, and the solution is to replace the spring.
3. The water level gauge fails
A water level gauge is a type of sensor, an instrument that detects the water level.
There is a designed program in the fully automatic industrial washing machine. When the water level reaches a pre-set level, the program will issue corresponding instructions.
Then the water inlet valve will stop supplying water, otherwise, water will continue to flow in, and the water inlet valve will keep water inflow.
In addition to the above-mentioned self-failure, it is the problem of the water level gauge, then the failure of the water level gauge is mainly due to the failure of the water level pressure switch.
Checking the water level pressure switch can be done by blowing and pressurizing.
That is, in the case of no power supply, blow air to the pressure switch through the return air pipe and measure the resistance between the two wires of the water level switch with a multimeter.
The resistance is zero when blowing air, and the resistance value is greater than 10KΩ when not blowing air.
If the resistance value is always close to 0 or very large and the action sound of the contacts in the water level switch cannot be heard, it means that the water level pressure switch is faulty and should be replaced.
4. Air leakage fault
The air leakage fault of the industrial washing machine is realized as air leakage at the bottom of the return air pipe and the water tank. If there is air leakage, please replace the air pipe and joint.