Nomex Felt Pad Strip has a Protective Capacity of Being Hard-Wearing, Heat-Resistant, Flameproof. Felt Strip Helps to Resist Scratches & Dents at Every Stage of Profile Production Process.
As an alternative to graphite slats, felt pads can avoid wear and blackening caused by graphite.
Resin treatment can be carried out as needed to improve wear resistance and service life.
This is particularly suitable for aluminum alloy profiles with high surface requirements.
Industrial felt pads are suitable for all temperature zones of aluminum extrusion、Flat work ironer laundry equipment, including the initial table, parallel type handling table, and more. 
100% Industrial felt
The heat-resistant felt pad is composed of Pure industrial felt without impurities. It greatly protects the aluminum profile without causing any damage. We provide felt pads of different materials to meet your various needs.
There are PBO, Kevlar, Nomex, polyester, and other fibers.
Smooth surface
Pure industrial felt High temperature felt strip is free of contaminants such as dust, grease, oil, moisture. The surface of the Nomex felt pad is smooth without texture, lint, or delamination.
helping to better combine with a variety of adhesive materials to improve bonding capacity。 It requires no additional maintenance, is easy to replace, and helps increase productivity.
Resin treatment
Resin treatment is available on request. The Nomex Felt pad provides stronger abrasion resistance and longer service life. It can also protect the surface of the profile from contamination. reducing the frequency and cost of replacement.
Versatility  
Needle punching technology turns the Nomex felt layer into a Nomex felt strip, making it difficult to wear and deform. In addition, it also has good sound absorption, cushioning, antistatic and insulation properties.
Compact structure
Using advanced needle punching technology, the heat-resistant felt pad has high felt density and high strength. It is durable and not easily deformed.
Cutting process
Advanced equipment and exquisite craftsmanship realize the rapid cutting of felt pads, with smooth edges and no burrs
Applications
Heat-resistant felt tape is suitable for many places that avoid damaging the surface of the profile, such as jumping tables, iron storage racks, forklifts, aging furnaces, and other places that need to reduce impact.
100% PBO / PBO+Kevlar felt pads – aluminum extruder exit / initial table in super high-temperature zone
100% Kevlar felt pads – run-out table in the high-temperature zone
Nomex felt pads – stretcher table/storage table in the middle-temperature zone.
Polyester felt pads – saw gauge table/loading table in a low-temperature zone.
Type:Slat Conveyor, Color:Off-White, Width:40mm-100mm, Length:Up to 20000mm, Density:430g/m²·mm, Material:Nomex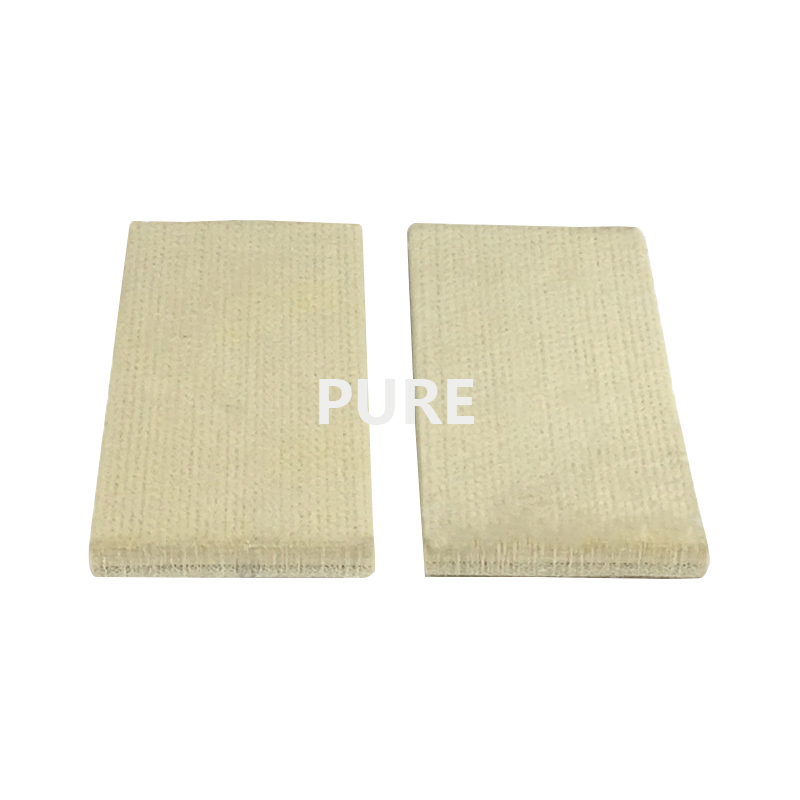 CONTACT US Get a quote
>Click  linkedin.com/company/nomexfelt
Mail:[email protected]