Sanforizing machine structure
Clip chain preshrinking and finishing machine construction, as shown in Figure, the whole machine is composed of a cloth feeding and discharging device, steaming and wetting device, short clip tenter device, three-roll rubber blanket pre-shrinking machine, and blanket drying part.
In and out device
It consists of a tensioner, an edge suction device, a feeding roller, and a cloth speed measuring instrument.
Use spray and steam boxes for moisture to improve penetration and moisture absorption.
Short clip tenter device
Make the fabric flat and wrinkle-free into the three-roll rubber blanket pre-shrinking machine, and can adjust the feeding speed and warp and weft tension of the fabric according to the process needs.
Sanforizing device
It is the core part of the Sanforizing machine, which is composed of cloth feeding, steam-heated cylinder, rubber blanket, pressure roller, rubber blanket guide roller, tension regulator, rubber blanket cooling, and other devices.
Felt blanket dryer
The function is to dry and shape the Shrinked fabric by the three rotating cylinder rubber blanket to ensure the shrinkage stability of the fabric, and to improve the feel and gloss of the fabric.
Work flow: feeding cloth—wetting and feeding cloth—preshrinking—drying and cooling—dropping cloth.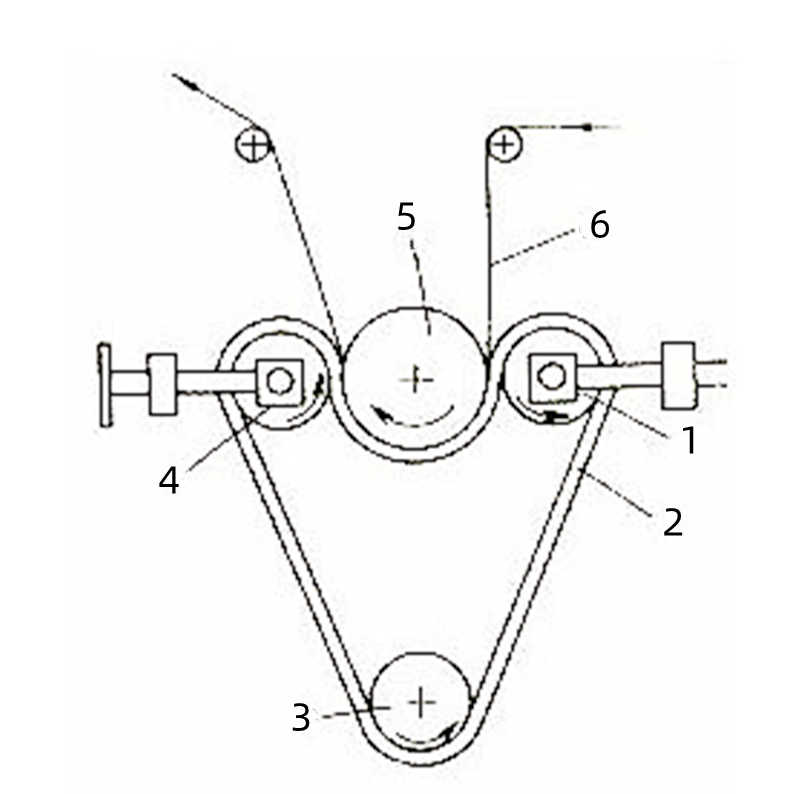 Blanket pre-shrinking machine
The working principle of the rubber blanket preshrinking machine:
The fully wetted fabric is covered by the rubber blanket 2
between the cloth feeding roller 1 and the heated pressure bearing roller 5.
Enter the surface of the heated pressure roller 5 of the shrinker,
The rubber blanket 2 is bent between the cloth feeding roller 1
and the heating and pressure bearing roller 5, and the deformation of the outer layer is stretched and the inner layer is squeezed.
Using the good elastic deformation of the rubber blanket,
the fabric is tightly squeezed and wrapped between the rubber blanket and the heated pressure-bearing roller 5.
While squeezing and shrinking, drying at the same time to achieve the purpose of warp shrinkage.
The uniformly wetted and short-distance whole-width fabric is hot-pressed by the electric heating shoe to the small-diameter cloth feeding roller.
The stretched surface of the 4~18mm thick woolen blanket enters the electric heating drying cylinder, and the curvature of the blanket surface leaves the cloth feeding roller to reverse the deformation and shrink.
Finally, it is dried by a felt drying device to improve the stability of the pre-shrinking effect. After this finishing, the shrinkage of the fabric can generally be reduced to 1%.
A good quality Nomex endless felt preshrunk works well. The thickness of 20mm – 25mm is the most suitable. Choose a leading Nomex felt manufacturer to guarantee high sales of your fabrics. Contact us: [email protected] And learn more about Sanforizing machine structure.