The ironing machine is a kind of commercial laundry equipment. It is mainly used for ironing sheets and quilts. also tablecloth, towel, curtain, bath towel, etc.
The industrial ironing machine has the advantages of a simple structure, large-diameter Stainless steel roller, steel carbon structures, Simple control button. can be used in washing factories, hotel laundry, hospital laundry, guest houses laundry, and other industries.
Flatwork Ironing belts are an essential component of your industrial ironer's functionality.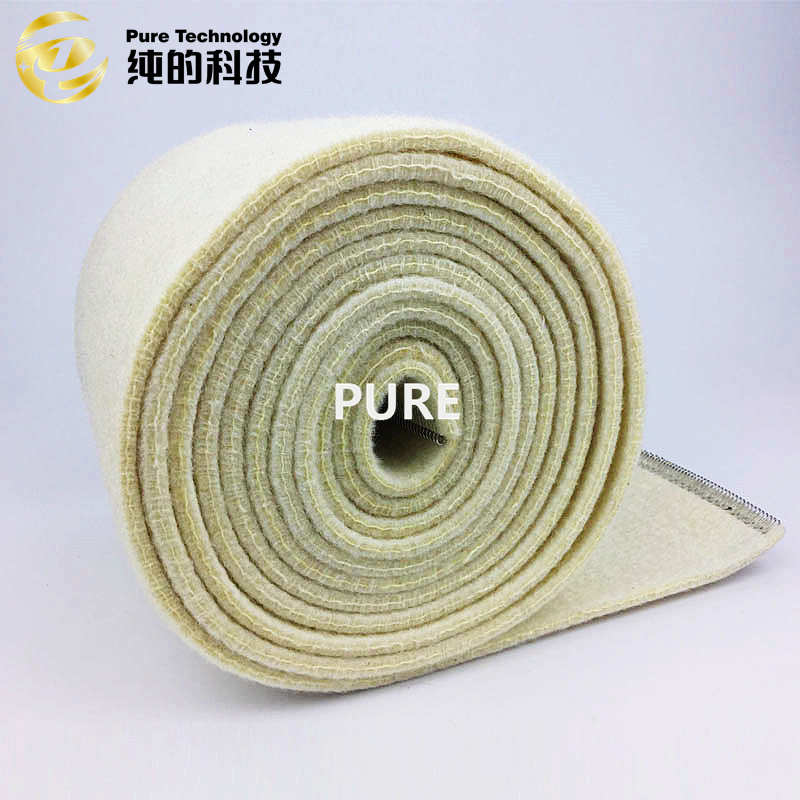 The high temperature resistant endless belt is one of the ironing machine parts, the knitting process is the ironing belt.
Because it is used in the ironing machine, it is also called a flatwork ironer belt, Industrial Laundry Flatwork ironer Belting, or ironer needled belt.
The ironing belt material has Nomex and polyester. The Nomex Ironer Belting temperature resistance is 280℃, and the polyester Ironer Belting temperature resistance is 180℃. Their density is 1200g/m² – 2200g/m².
Different laundry ironer belts are used for different ironer machines. Another type is Cotton Ironer Belt a stripe running down either side. Two layers of a cotton belt, laundry flatwork ironer Stretch elastic belt.
Ironing belt Advantages:
High-pressure resistance, High breaking durability, High air permeability, allowing the seatbelt to perform dryer, and increasing the outcome of the ironer.
Our ironing belt has a soft felt surface giving a smooth high-quality finish to the linen.
It is delivered in rolls of +/- 50 Michael of the desired breadth or as ready-made belts.
Not deviate from the original position. It allows for easier installation and less downtime
Ready-made belts are delivered with stainless tow hooks, reinforced fabrics on both ends, a Coto Aramid flap to hide the hooks, and a red corrugated pin number to join.
https://www.nomexfelt.com/ Pure Technology A laundry belt Manufacturer Find Business Partners Globally, with 20+ Years of Industry Experience, Unbeatable Prices, and Service. Contact Us!