Industrial high temperature resistant aramid timing belt
Timing Belt Specifications
| | | | |
| --- | --- | --- | --- |
| Brand Name: | PURE | Type: | High Temperature Timing Belt |
| Model Number: | T10, T20, AT10, AT20, HTD8m, HTD14m | Material: | PVC |
| Thickness: | 8mm,10mm | characteristic: | Non-slip,easy to drive |
| Dimension: | Customized Size | Technique: | Hot melt technology |
| Load Capacity: | Extuder cold bed above 2000T | Place of Origin: | Guangdong, China |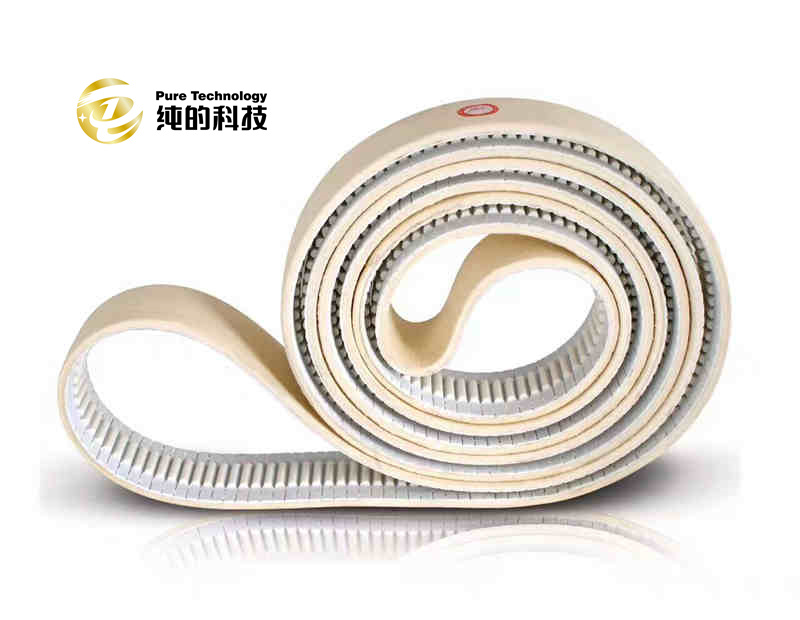 It belongs to the vertical spraying equipment of large tonnage extrusion press (above 2000 T) or aluminum profile factory. Felt must be attached to the cooling bed, and all four stages of the cooling bed must be used; it is not necessary to attach felt for vertical spraying.
H-type or T10-type or T20-type for the machinery of about 3500 T;
Machines over 5000 T must use HTD14m
PVC timing belt with/coated PBO felt
PVC timing belt with/coated Kevlar felt
PVC timing belt with/coated Nomex felt
PVC timing belt with/coated Polyester felt
Timing Belt Advantages
It is made of a PBO, Kevlar, Nomex material fit PU glue. The timing belt's long life.
While the timing belt is moving inside the machine, it is placed under a lot of stress and tends to wear out quickly for this reason.
If you let your timing belt get worn out and you don't replace it, you can cause a lot of expensive damage to your machine.
The greatest feature is nonskid, easy transmission. Paste with a special method to allow it to be more durable. Timing Seatbelt Adhering to Experienced Utilizing the latest technology, the timing seatbelt, and the experience as hot-melt shaped together. The PU glue penetrates the felt completely, which solves the difficult problem of easily separating with the glue and it has good flexing and flexing resistance.
Equally types of devices commonly used in linear positioning software — V-belts and synchronous designs — have internal tensile cords that provide the principal load-carrying component. Or, as one engineer from Gates Mectrol said, the tensile wires are the "muscle" of the seatbelt. V-belts and synchronous belts are offered with tensile wires of various materials, including polyester, fiber-glass, steel, aramid (Nomex, Kevlar), and carbon-fiber-reinforced polymer, to suit a variety of application requirements.
para-aramid synthetic fiber timing belt
Though Kevlar is well suited for a variety of temperatures, it has a negative thermal coefficient of expansion, meaning that it shrinks as the temperature soars and lengthens as it cools. Thanks to the simple fact that this behavior is the contrary to all other machine components (especially those created from metal) — which expand as temperature increases and contract as temperatures decreases — Kevlar-reinforced belts might not exactly be suitable in surroundings with important temperatures fluctuations.
Delivery description
After-sales service
● Professional technical team to provide you with tailor-made services.
According to the high Temperature Timing Belt specifications and requirements provided by customers, design and manufacture products that meet the requirements.
● Professional instruction to achieve the purpose of reducing costs, such as which level of cooling bed to use which temperature high Temperature Timing Belt. How to use the one that can extend the life .
● Professional aluminum extrusion plant construction experience, one-stop service, in addition tohigh Temperature Timing Belt, it also provides extrusion press, aging furnace, mold, casting platform, Aluminum profiles packing machine, correction machine, aluminum motor, handing system, etc.
---
Foshan Pure Technology Co., Ltd
Factory production line, warehouse environment
Foshan Pure Technology Co., Ltd. felt manufacturing plant has advanced and brand-new felt production machines, including 1 brand new carding machine, 2 endless belt machines, 6 drum machines, 1 setting machine, 4 sewing machines, and an annual production capacity of 3000 ten thousand.
Main markets: North America, South America, Eastern Europe, Southeast Asia, Africa, Oceania, Middle East, East Asia, Western Europe, Central America, Northern Europe, Southern Europe, South Asia, China market.
Company Qualification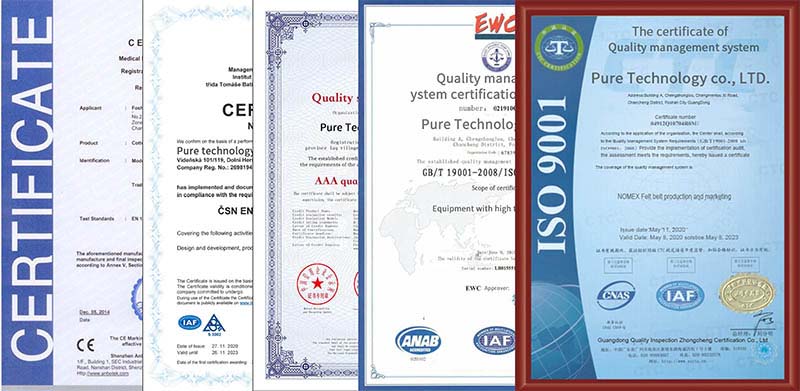 Company culture
Vision: To be a leader of heat-resistant felt in the world, to be an enterprise that is respected.
Mission: Promote industry progress, contribute to social development.
Values: Quality Is Life! Service Is Life! Honesty Is Life!
We are to provide high quality supplies and solutions to reduce marginal costs for the boss who has problems in purchasing machinery spare parts. Leading manufacturer of heat resistant felt belt – Pure Technologies Ltd.
---
Frequently Asked Questions
Q: What information do I need to provide?
A: Need to high Temperature Timing Belt size, machine model and picture, delivery address, and zip code to calculate shipping
Q: What is the process of placing an order?
A: Contact us for high Temperature Timing Belt size and quotation, We provide you with an invoice-remit the money to the bank account-arrange the heat resistant felt production after receiving the payment-settle the balance before shipment- send out the felt rollers – receive the goods
Q: Are there any additional costs?
A: Additional taxes and fees are determined by your local customs duties
Q: Where is the origin of the fiber?
A: The low-temperature fiber polyester has a temperature resistance of 180 degrees and is produced in Yantai, China.
Nomex, a medium-temperature fiber with a temperature resistance of 280 degrees, comes from the USA.
The high-temperature fiber Kevlar has a temperature resistance of 480 degrees and is produced in the USA.
The PBO fiber has a temperature resistance of 600 degrees and the place of origin comes from Japan.